Phillip Schofield has called them This Morning's very own "Thelma and Louise" and fans have even begged for them to have their own TV show – but insiders say Alison Hammond and Josie Gibson's friendship has been tested by the recent turmoil behind the scenes at ITV.
While Alison, 48, and Josie, 38, are both loved by viewers for their candid and hilarious interviews with some of Hollywood's biggest stars, Phillip's recent absence, followed by Holly Willoughby's bout of shingles last month, have seen both presenters cover the prime time slot on the sofa with separate co-stars.
And while Alison is fast becoming TV's hottest new star, even landing the gig of hosting the BAFTAs earlier this year, an insider says she's struggling to let go of her slot as the show's entertainment correspondent – and it's caused some friction for Josie, who is keen to be given more opportunities.
A source says, "Alison is known for charming the A-listers and generally gets given the pick of the bunch when it comes to big interviews. But with Alison spinning so many plates now, she can't do it all so a lot of them fall to Josie, who also has her own way of disarming celebs and creating viral moments with them.
"There's a little bit of friction as Josie doesn't want to step on toes or upset Alison – they're such good pals, after all – but she can't help but feel that, with Alison being pulled in so many different directions, there is an opportunity here for her to shine."
Both stars rose to fame following their appearances on Big Brother, but while Alison was snapped up by This Morning shortly after leaving the reality show in 2002, Josie has revealed that she struggled for years to land her dream role as a TV presenter after winning her BB series in 2010.
She said last year, "I think because of the Big Brother thing, it held me back a bit and nobody wanted to know – and I mean nobody.
"Over two years, I put myself out there. Nobody knows this, but I got into [TV presenting] because I just tried non stop."
She was finally handed the opportunity of a lifetime in 2018 when former This Morning host Eamonn Holmes took a shine to her, and has since interviewed some of showbiz's biggest stars.
And while Alison's hilarious, whisky-fuelled interview with actors Harrison Ford and Ryan Gosling went viral, Josie enjoyed her own moment of notoriety when Jennifer Aniston misunderstood her Bristolian accent and thought Josie
had asked if the actress was a "hooker", instead of a "hugger". Now the source says that after jetting out to the Oscars in 2020, Josie wants to push her career forward.
The insider says, "She has been sent to LA before to cover the Oscars for This Morning and had a wild time – she'd love to do it again. Josie loves it out there and is super-keen to do more interviews."
But the source says that after striking up a close friendship off-screen some time ago – with Josie publicly thanking Alison last year for having helped get her through lockdowns with daily phone calls – she's adamant that she doesn't want to pose a threat to Alison.
The duo, who are both single mums, even spent Christmas Day together last year with their children – Alison's son Aiden, 18, and Josie's son Reggie, four.
The insider adds, "They still get on really well but everyone is worried about them getting into a bit of a squabble over who does what.
"Alison has a deep affection for Josie, but she's a naturally hard worker and wants to juggle it all – being a big name on the sofa but still being able to be the star interviewer out and about on assignment.
"For Josie, she feels that it can be one big happy family with them all taking turns to interview the big stars like Harrison Ford – but she won't do it without Alison's blessing."
Meanwhile, Alison has fought her own battles to reach the top, and the source says that while she wholeheartedly supports Josie, she doesn't want to give up a good thing either.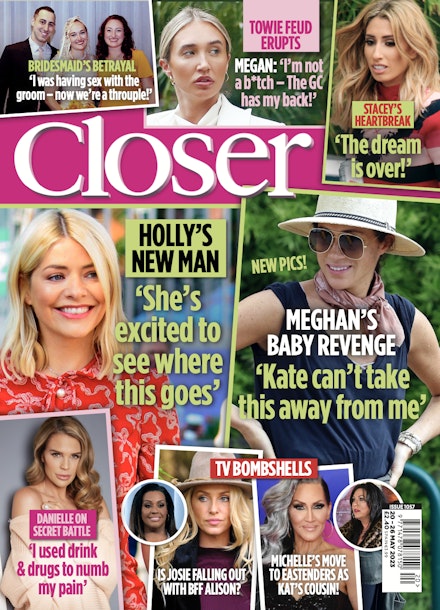 They add, "Looking ahead, it seems as though Alison is being groomed for some really big things and less of the fun stuff that originally made her a household name.
"However, she's made it clear that she doesn't intend to stop doing interviews with the A-list – because she knows the power that they have in bringing you attention on a global scale. Alison is an all- round entertainer and used to spinning lots of plates.
"There just seems to be a bit of rivalry brewing as they have similar backgrounds and personalities. Insiders backstage are worried that it could get tricky if they continue crossing paths on what they want to do on the show."