Here's everything Susanna Reid wore on the show this week - and where to get it cheaper because we are LOVING her style on Good Morning Britain.
And we know how annoying it can be when you spot the PERFECT dress/top/shoes on TV, but there's just no way to find out where it's from or how much it costs.
But we've solved this age-old problem for you by tell you exactly what Susanna is wearing - plus high street options too.
You're welcome.
What Susanna Reid wore on Good Morning Britain this week
Monday 5 June 2023
For her first look of the week, Susanna is wearing this orange midi dress and heels. Mow that it's June, it's the perfect time to wear bright bold colours which is why we're loving Susanna's outfit.
What Susanna is wearing:
Dress, Caroline Kilkenny.
Where you can get Susanna's look for less on the high street:
From John Lewis you can recreate Susanna's outfit for less than 100...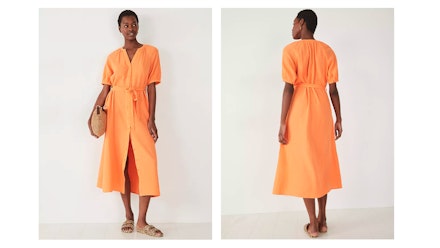 hush Jessie midi cotton dress, John Lewis, 89.
WATCH: Vicky Pattison: 'I have very few celebrity friends' | Celebrity Phone Unlocked
If you ever wonder how Susanna managed to deal with her former outspoken GMB co-host Piers Morgan, she's spoke about their TV relationship and admitted, "The chemistry somehow works. I'm not really quite sure why. But, I have a newfound respect for Piers' actual wife Celia Walden, because I have to play his TV wife three mornings a week.
"People say, 'How do you put up with him?' and I say, 'Think of Celia. Just think of Celia.' All hail the queen of tolerance and patience!"
Unfortunately after Piers stormed off the GMB set and quit the show in 2021, they no longer co-host the programme together.
What's your favourite outfit? Will you be splashing your cash on any of these outfits? Let us know over on Facebook or Twitter.