It's pretty much a fact that Holly Willoughby is a UK style icon.
This Morning fans are obsessed with Holly's outfits on the showand even when she stepped in for Ant McPartlin on I'm A Celebrity, her followers couldn't get enough of her style.
Now she's back and presenting Dancing on Ice 2023, so viewers will see her gracing our Sunday night TV screens.
And naturally, the question on everyone's lips will be: where did she get that stunning dress that transforms her into a real-life ice queen? And is there anywhere we can get it for cheaper?
If you want to style stalk Holly, look no further - as we'll have all the info on who designed her Dancing on Ice dresses (and we'll even find a cheeky cheaper alternative for you too).
Check out: Holly Willoughby's Dancing On Ice Dresses 2023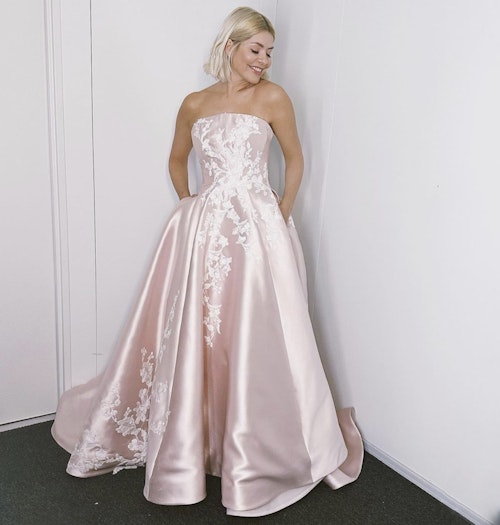 1 of 10
Holly celebrated her birthday during week four of Dancing On Ice and chose to honour the occasion by picking a gorgeous pale pink strapless 'Audrey' gown by bridal designerJosephine Scott, 2320.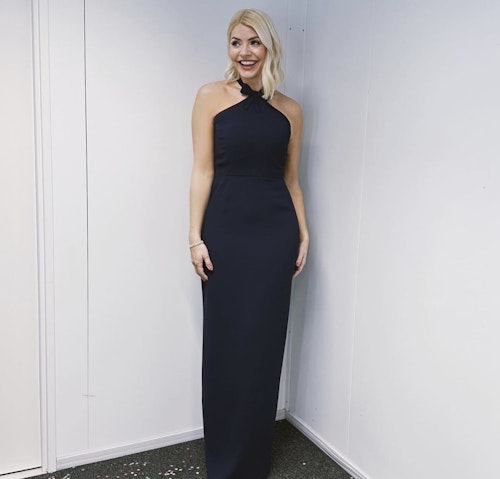 2 of 10
For Week Three, Holly opted for a super simple dark navy halterneck dress with bow detailing from Mika Style, a London-based tailor. So classy.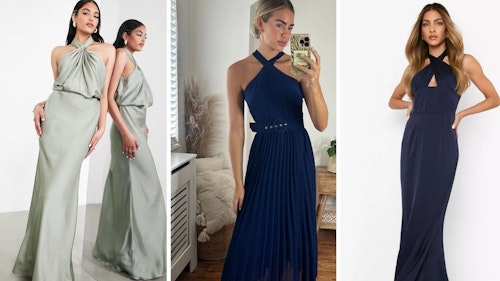 3 of 10
DUPES:
1. ASOS EDITION satin ruched halter neck maxi dress in sage green, 110, ASOS
2. Style Cheat Halter Pleated Belted Maxi Dress, 65, Next
3. Halter Maxi Dress, 18, Boohoo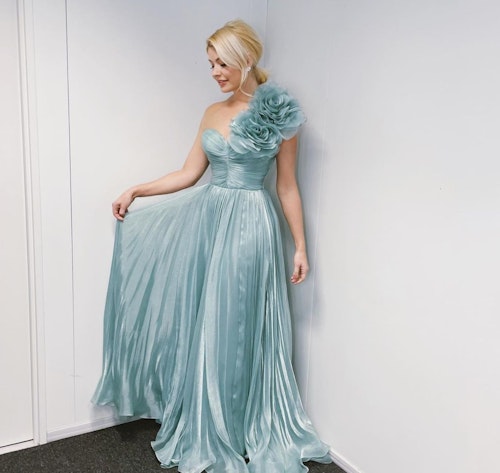 4 of 10
CREDIT: Instagram
Blue is definitely Holly's colour this year. For week two, she wore a one-shouldered silk blue evening gown from Iris Serban. The same design is still available in red, quartz pink, ivory and black.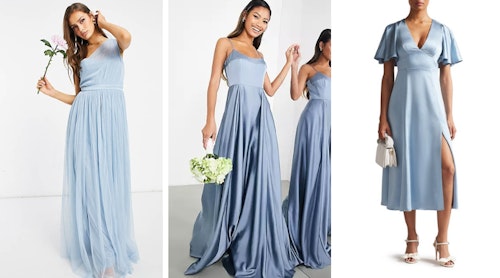 5 of 10
DUPES:
1. Anaya With Love Bridesmaid Tulle One Shoulder Maxi Dress In Soft Blue, 43.50, ASOS
2. ASOS EDITION Satin Cami Maxi Dress With Full Skirt In Dusky Blue, 110, ASOS
3. Ted Baker IMMIE Satin Midi Dress With Cape Sleeve, 100, Fenwick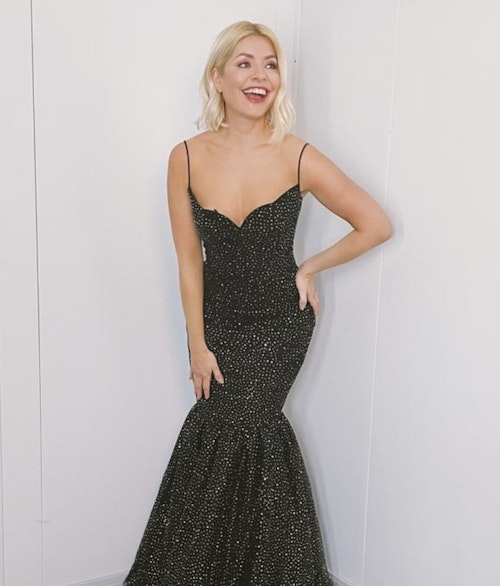 6 of 10
CREDIT: Instagram
To kick the live shows off, Holly looked stunning in a crystal-embellished tulle gown from RASARIO (2375) for the first live show and opted for minimal jewellery from Astrid & Miyu. The dress is pretty pricey, so we've found some lookalikes.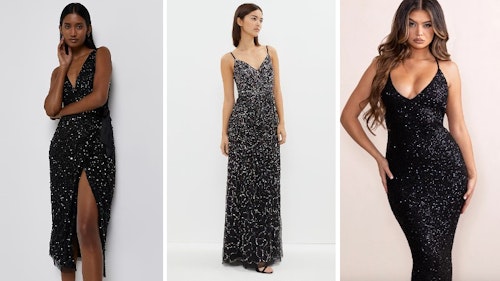 7 of 10
DUPES:
1. Black Sequin Midi Dress, 85, River Island
2. Petite Premium Multi Colour Sequin Maxi Dress, 139, Coast
3. Black Fishtail Maxi Dress, 120, Club L London
8 of 10
CREDIT: Instagram
To kick off the new series, Holly wore a light blue sequinned Nedret Taciroglu couture gown with a sweetheart neckline for the promotional pictures. The dress is currently not for sale (cry), but we have found some gorgeous dupes.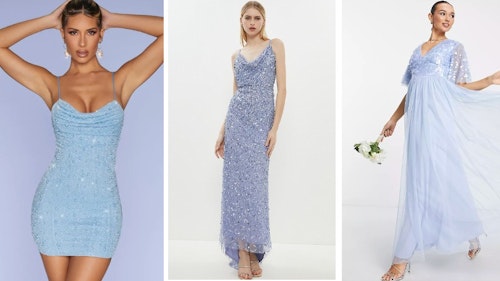 9 of 10
DUPES:
1. Embellished Cowl Neck Mini Dress in Blue, 50, OhPolly
2. Cowl Neck Puddle Hem All Over Sequin Dress, 113, Coast
3. Maya Bridesmaid puff sleeve midi dress in baby blue, 100, ASOS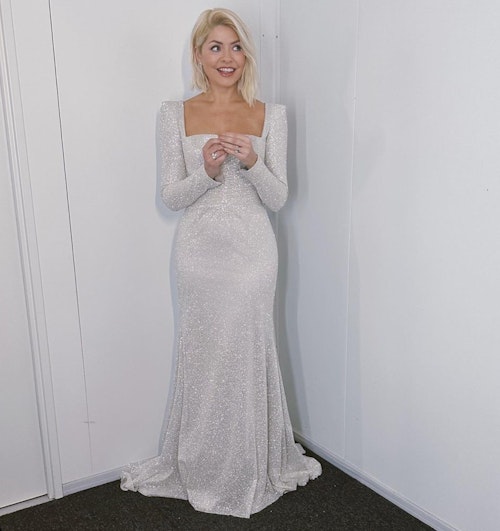 10 of 10
Holly transformed herself into a glitterball for the dance-themed week of the show, picking a bespoke dress from Suzanne Neville, one of her favourite designers.
As we wait for next week's dress, here are some of Holly's other gorgeous dresses from the 2022 series.
<meta charset="utf-8">Holly Willoughby's best Dancing On Ice dresses 2022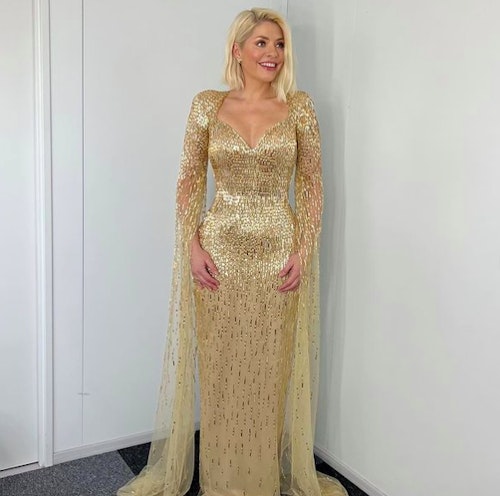 1 of 6
For the final of Dancing on Ice 2022, of course Hols was going to dress up like the winner's trophy for the occasion. She is utterly dazzling, and we'd like an event to wear this glitzy number to, ASAP.
What Holly is wearing: Dress, Sophie Couture
Where you can get Holly's look for less on the high street: From Shein to Boohoo, you can copy Holly's entire outfit and save some cash...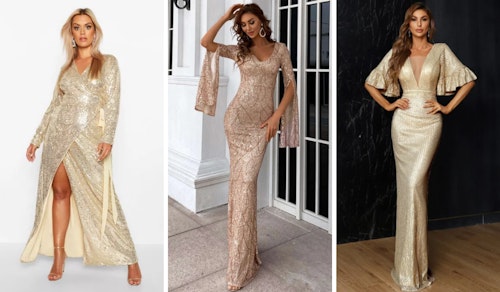 2 of 6
Plus Sequin Wrap Floor Maxi Dress, Boohoo, 33.75Missord Split Sleeve Sequin Prom Dress, Shein, 56.99Missord Mesh Insert Flounce Sleeve Floor Length Sequins Prom Dress, Shein, 28.95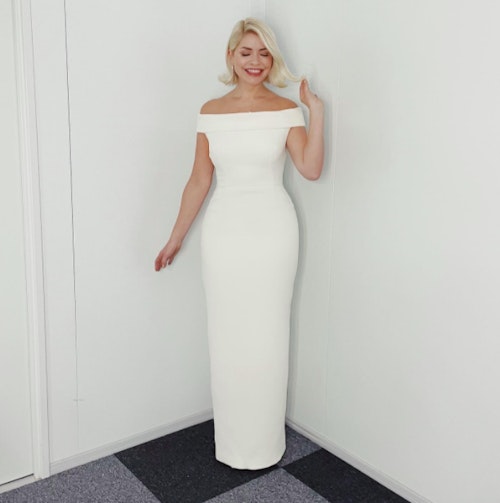 3 of 6
CREDIT: Instagram / hollywilloughby
For musical week on Dancing on Ice, Holly's dress gave us major wedding inspo. It's a simple yet classic look and while Holly's dress is fairly pricey, we've found a high-street dupe...
What Holly is wearing: Emilia Wickstead
Where you can get Holly's look for less on the high street: Copy Holly's wedding dress look for less than 150...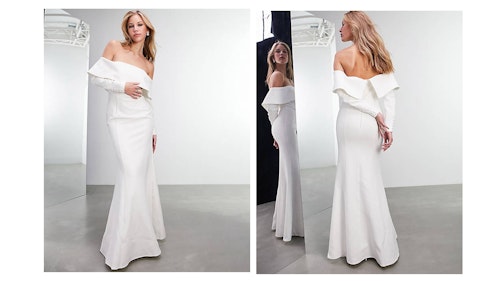 4 of 6
CREDIT: ASOS
ASOS EDITION Everly off shoulder long sleeve crepe wedding dress, ASOS, 135.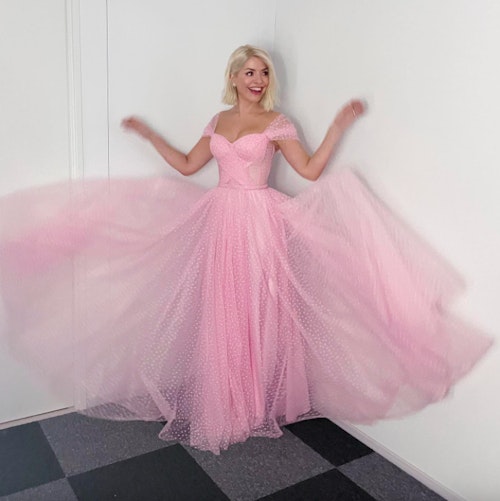 5 of 6
CREDIT: Instagram / hollywilloughby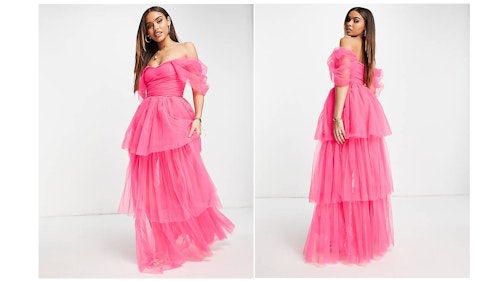 6 of 6
CREDIT: ASOS
Lace & Beads exclusive off shoulder tulle maxi dress in bright pink, ASOS, 100Also available in plus sizes.