They were the dream team who had ITV at their feet. But the once solid partnership between Holly Willoughby and Phillip Schofield appears to be crumbling.
The duo – who have been presenting This Morning together since 2009 – have been plagued by rumours that their friendship is in jeopardy since Phil recently put out a solo statement, saying "the last few weeks haven't been easy for either of us".
He took time away from the show in March and April while his brother Timothy, 54, was on trial and later jailed for 12 years for child sex offences – something sources say he'd kept Holly in the dark about until the week before the court case began.
Speaking about Holly, an insider tells Closer. "If she ever leaves This Morning, it will be on her terms and she'll only leave when she feels the time is right. She loves working with [fellow presenters] Alison Hammond and Dermot O'Leary, and knows she'd be fine taking over the show without Phil.
And our source adds that, amid the stress of the situation, Holly has even thought about reaching out to some of Phillip's former co-workers, who hold a grudge, to gain some support.
When speaking about last week's BAFTA Awards, former This Morning star Eamonn Holmes, who presented on the show with his wife Ruth Langsford until January 2022, said on GB News, "I think there should've been a special award for Phillip Schofield and Holly Willoughby for best actors. The public surely have sussed that there's no chemistry, that there's a broken fit between the two of them."
He added, "This Morning does not depend on who presents it. It's an institution. It will carry on regardless, and anybody can check the viewing figures. There's no difference between whether they present it or anyone else." When accused by a fan on social media of leading a "witch hunt" against Holly and Phillip, Eamonn replied, "I think I have a lot more insight than you".
Phillip's old co-host, Fern Britton – who quit the show less than halfway through her contract in 2009 and has spoken out about her difficult time working with him – also seemingly weighed in on the argument. "Just had the loveliest catch up with @EamonnHolmes," she tweeted last week. "I think we have known each other since the '80s when we were babies. Shooting the breeze."
Our source says, "One of the hardest things for Holly and Phil is not having anyone they can really turn to for support. Relations are not great with a lot of their former co-presenters like Fern and Eamonn, but it's more than likely Phil who a lot of people have a problem with, not Holly. She's felt a bit isolated so has made a pact to reach out to TV 'old hands' – and especially former big names from This Morning like Fern – to act as a sounding board.
"She doesn't want to cause a huge fallout with Phil and be seen to side with his rivals, but she needs some allies and good advice and can only really get that with others who have worked with him. She's never really understood Fern's side before, but is now wondering if she's getting a glimpse of it. Obviously she's got her own friends and family who are there for her, but she's determined this won't ruin her."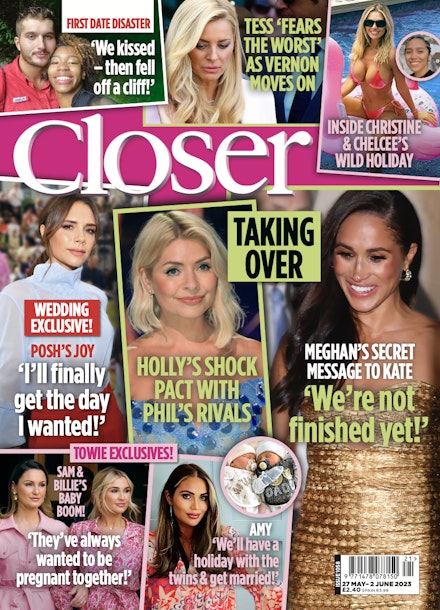 WATCH: What happens backstage at This Morning? The cast spill some serious tea