You can take the Real Housewives of Cheshire out of Cheshire, but you can't take the Cheshire out of the Real Housewives of Cheshire – especially during a boozy wrap party in Manchester.
The RHOCheshire series 16 finale predictably and neatly wrapped up all the series' loose ends; you know, without really wrapping anything up at all – after all, what kind of a reunion episode would we be getting if no one had any scores left to settle?
Not to worry, drama fans; after watching the teaser for next week, it's safe to say that's definitely not the case this season. As our Lystra would say, things are about to get "spicy".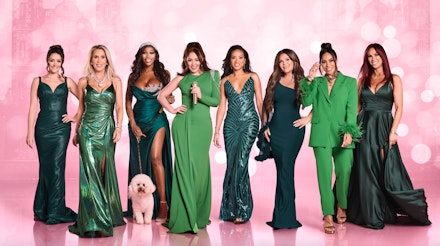 So where have things been left this series? Well, the series finale saw the likes ofSeema Malhotra, Nicole Sealey, and Lystra Adams venturing to Manchester to celebrate the official launch of new Housewife Natasha Hamilton's solo music career (in what we think is an LGBTQ+ bar on Canal Street we know a little too well). Side note – Natasha's debut track is an absolute vibe.
Everything was going swimmingly amongst the ladies, with Nicole even offering Sheena Lynch an olive branch in the form of a white rose and giving Natasha a bouquet of flowers in attempt to but all the drama to bed. It then all went to hell when Paige Chohan rehashed her beef with Hanna Kinsella for the 107th time and Nicole and Seema got into a blazing row (over Paige) which resulted in Seema storming out of the finale bash – and straight into a chauffeured car, obviously.
Before we had time to digest any of that, Seema took to her Instagram grid to seemingly sweep all of this season's drama – including the reunion drama we're yet to see play out on our screens – under the rug. She posted a stunning close-up snap of herself and accompanied it with a lengthy caption, stressing how much she adored her RHOCheshire sisters (despite the endless drama and rowing) and filming this series.
Seema wrote, "Thank you so much for tuning into the last episode of Season 16 of The Real Housewives of Cheshire! We truly appreciate your support and dedication to our show. We would like to thank all of you for sharing this journey with us and thank you for your enthusiasm throughout the season. We have enjoyed every moment with you and we can't wait to show you what's coming next. Until then, thank you once again!.
"Thank you to my girl friends for all the fun, drama, arguments, laughs, and always being there.. I'm so glad that our friendship has endured and that no matter what comes our way, we always stick together. Thanks for being such wonderful friends."
Seema then went on to tag each and every one of her cast mates in the post, including Hanna, Nicole and Rachel Lugo – all three of whom she has clashed with this series.
We heart you, Seema, and it's a sweet sentiment, but the timing seems a little strange to us; we'll come to our own conclusions once we've watched the reunion next Monday – because all we saw in that 30 second teaser was a lot of dramatic standing up, pointing and swearing.
And stunning designer gowns, obviously.
WATCH: 'I Wasn't Being My Full Self': Kyle Richards Spills Real Housewives Of Beverley Hills Secrets