While we're all patiently waiting for the inevitably fiery Real Housewives of Cheshire reunion to air next Monday, allow us to tease you by telling you about another RHOCheshire reunion that took place in real life this week – one that, naturally, didn't exactly go to plan. How very Cheshire.
On Wednesday 24 May 2023, a handful of current cast-members – Rachel Lugo, Seema Malhotra, Natasha Hamilton, Nicole Sealey and part-time Housewife Paige Chohan – gathered in a posh private box at Manchester's AO Arena to enjoy Sam Smith's Gloria tour stop in the Music Capital. Many of the girls have naturally been sharing pics and footage from the night out over the last few hours on social media, with Seema revealing that the girls were joined by one of the show's former stars, Nermina Pieters-Mekic, by means of a group photo.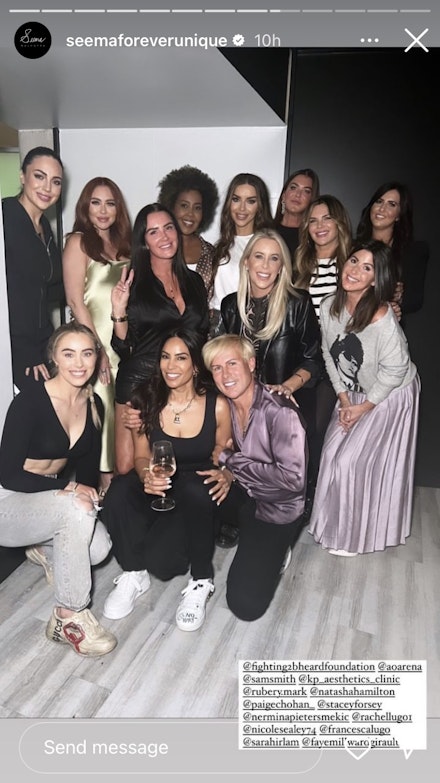 A little reminder (because lets's face it that axe has done some swinging over the years), Nermina lasted just under a year on the hit ITVBe show before producers made her a 'guest-housewife' (a savage move by all accounts). She has also modelled for Seema's brand, Forever Unique.
Nermina also wildly chucked a drink in Ester Dee's face once – remember that?
She might not have popped up in the latest series, but Nermina is still clearly very close with some of the girls if she's getting invites to mid-week concerts with elite cast members in private boxes.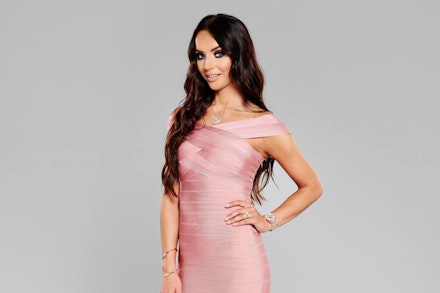 However, as to be expected with any RHOCheshire reunion – or even gentle social gathering – things didn't go smoothly – but this time, no Cheshire queens were to blame (even with Nicole Sealey there? Yes).
Shortly into Sam Smith's Manchester show, Sam's team was forced to cancel the show as the singer was having "issues" with their voice, resulting in the cancellation of the show, putting an abrupt end to our girls' merriment – and the merriment of thousands of Sam fans.
Sam released the following statement on their Instagram Story, "I don't know what to say honestly. I fought off a virus a few weeks ago and since then we have travelled across Europe and had such incredible shows.
"Today in soundcheck I felt fine and was so excited to give Manchester an amazing show tonight, with a special surprise guest at the end."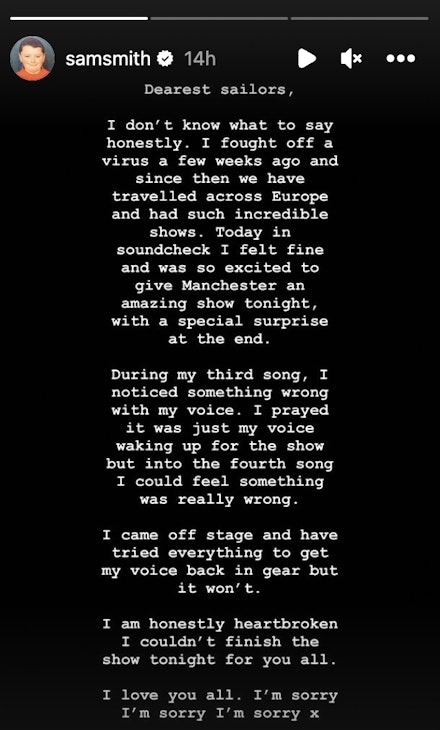 Sam continued, "During my third song, I noticed something wrong with my voice. I prayed it was just my voice waking up for the show but into the fourth song I could feel something was really wrong.
"I came off stage and have tried everything to get my voice back in gear but it won't. I am honestly heartbroken I couldn't finish the show tonight for you all. I love you all. I'm sorry I'm sorry I'm sorry."
Naturally, this put a stint in the RHOCheshire's BNO in Manchester, with Natasha taking to her Instagram to explain what happened from her car.
The Atomic Kitten star revealed. "Well, this is an interesting one. We've just been to watch Sam Smith....
"I think we got four songs in and then there was something going on with a video, like the VT was running, and then it just stopped and I thought, 'Was that a power cut?'"
She continued, "And then the next minute all the lights go off and then the tour manager/stage manager, 'Sorry, guys, we need to pause the show.' And then we waited half an hour, and then the guy got back on the mic and said, 'Unfortunately, we're going to have to cancel the show because Sam's got no voice.'"
Oh, well. It was nice to see Nermina letting her hair down with some of our girls again (and no drinks being chucked in any gorgeous faces?). ITV producers, if you're reading this, invite Nermina on the next RHOCheshire holibobs, will you? We forgot we missed her.
Who is Nermina Pieters-Mekic?
Nermina is a former Real Housewives of Cheshire cast member. She is a wife, mum, a keen equestrian and founder of Equidae London, a horsing wear brand.
When was Nermina Pieters-Mekic on Real Housewives of Cheshire?
Nermina lasted just under a year on the hit ITVBe show before producers made her a 'guest-housewife'. She first appeared on the show as a guest in series three, then gained full Housewife status for series six and seven between 2017 and 2018. After being axed from the show's full-time line-up, Nermina appeared as both a 'friend' and a 'guest' for various episodes in series eight, nine, ten and then 14 and 15.
She did not take part in any series 16 filming.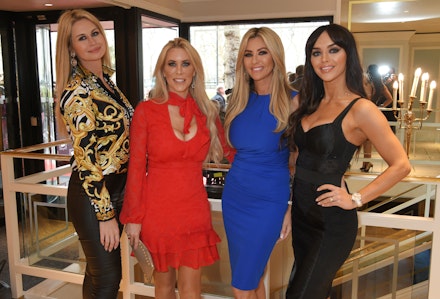 How old is Nermina Pieters-Mekic?
Nermina was born on 30 July 1990, which makes her 32 years old.
Is Nermina Pieters-Mekic still with Erik Peters?
Yep. Nermina and her footballer hubby Erik got married on 3 June 2016 and are still together.
Does Nermina Pieters-Mekic have children?
She sure does. She has a two-year-old daughter called Alaya-Rose who is ADORABLE.
What is Nermina Pieters-Mekic doing now?
Nermina is busy working on her equestrian brand, as well as being a mum and model.
Why did Nermina Pieters-Mekic leave Real Housewives of Cheshire?
Nermina lasted just under a year on the hit ITVBe show before producers made her a 'guest-housewife'.
WATCH: 'I Wasn't Being My Full Self': Kyle Richards Spills Real Housewives Of Beverley Hills Secrets