Love Island legend Olivia Attwood is nothing short of a television goddess.
She's already ticked the likes of Love Island, TOWIE and I'm a Celeb (well, sort of) off her list – not to mention nabbing her own documentary series. Not too shabby for a career post-Love Island.
And naturally, since the Love Island 2017 star first moved to Cheshire with fiancée footie star Bradley Dack, we've been hoping and praying for one thing – that Liv would join the cast of The Real Housewives of Cheshire and just spend her leisure time living a life of glitz, glamour and grim dinner parties with the likes of Rachel Lugo, Natasha Hamilton and Sheena Lynch (on camera, of course). Call us sad, but this is honestly the stuff that Closer employee dreams are made of and from the looks of things, we're one step closer to those FINALLY dreams coming true.
Take a breath both Olivia and RHOCheshire fans, because this is a lot to digest on a rather warm Hump Day and potentially VERY exciting.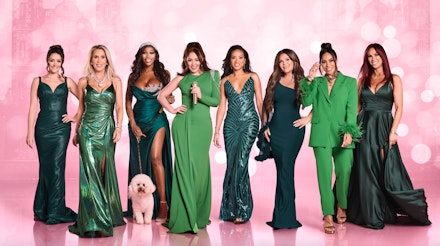 If you follow former Housewife Katie Alex on Instagram, you'll know this Cheshire queen has her fingers in many pies, as a full-time mum, travel guru, socialite, part-time reality star and nurse specialist in non-surgical vulvo-vaginal reconstruction (yep).
Fans of the ITVBe reality series will remember that when Katie was introduced to the rest of the group as the newest Housewife at the beginning of series 15, the Cheshire gals couldn't get over Katie's unique career; completely dedicated to creating perfect vaginas.
Katie has since stepped down from the series in a full-time capacity, but did cameo once this series, so has clearly not completed cut ties with the ITVBe show – which is good to know, because she appears to be working with Olivia.
Katie recently added the following call-out to her professional Instagram grid ,clearly suggesting that her and Olivia are set to work on an episode of "Olivia's new ITV2 documentary series" together.
Katie captioned the post, "Exciting Opportunity . We are looking for someone to take part in a fabulous new TV show with @oliviajade_attwood to be aired on ITV2 later this year. Do you suffer with vaginal laxity and stress incontinence since giving birth? Would you like an external makeover down below? Please contact us in confidence to discuss via DM or pop us an email - katie@katie-alex.co.uk."
Okay, so, no, Olivia isn't officially joining the RHOCheshire (as far as we know); in fact, Katie and Olivia are looking for someone to get their vagina out on telly, but still, it's a RHOCheshire and Olivia collab and we'll take it.
Hopefully, she has nice things to say about her experience on the show... and the girls .
WATCH: 'Every Lisa Vanderpump Moment Is Iconic': Kenya Moore Spills Real Housewives Of Atlanta Secrets