When it comes to shopping for the perfect wedding dress, there's already a lot of pressure. Our guess is that you're hoping to find a cheap wedding dress that moves you to tears, fits you like a glove and is bang-on-trend for your big day. That's not a lot to ask for - or is it?
As we know, trends in the fashion world come and go. And, heading into a brand new year means new trends in bridalwear. So, we thought we'd better take a look into what we can expect from our gorgeous brides this year along with the top wedding dress trends for 2023.
For a deep dive into bridal trends, we consulted an expert, and - more specifically - luxury bridal designer, Charlotte Mills. Aside from designingbridal shoes and accessories, she's also openedTheAisleEdit, a bridal shopping heaven where brides can shop for their entire bridal party. Charlotte knows all of the latest trends, trends to come, and exactly what brides are looking for.
The best wedding dress trends 2023
With the expert advice of Charlotte, we've highlighted some of the biggest trends for this year. Of course, we're wanting to cover all budgets, which is why we've included some high-street wedding dresses, as well as some of our favourites from ASOS to name a few.
Take a look at what's trending in bridalwear right now and our top suggestions for each of the trends...
The mini dress
A modern twist on bridal, the short wedding dress has seen a surge in interest thanks to Kourtney Kardashian's romantic Italian wedding with Travis Barker last year. Although, it seems that the mini dress trend is here to stay, and short wedding dresses are still in trend.
'Brides are steering away from full, voluminous traditional floor-length gowns as we've seen a huge increase in miniskirts, skirt suits and short dresses,' says Charlotte, 'Especially in the states. However, this trend has definitely made its way over to the UK.
'More and more UK bridal boutiques stocking mini dresses. Fuss-free, the style is so versatile as it's perfect for the reception, registry office, beach-side ceremony, or simply an intimate low-key wedding. I adore this trend, plus a short dress is a perfect chance to show off your statement wedding shoes.'
SHOP: The best short wedding dresses for 2023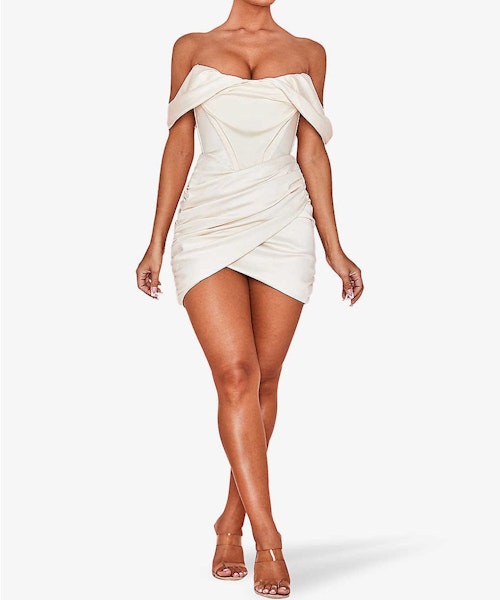 1 of 6
Following catching a glimpse of Sophie Habboo's wedding dress, we thought we'd add this short wedding dress to the list. From House of CB, it features gorgeous corset bodice and draping detail to rival a goddess. Could this be a dupe for Sophie Habboo's short wedding dress? We certainly think so.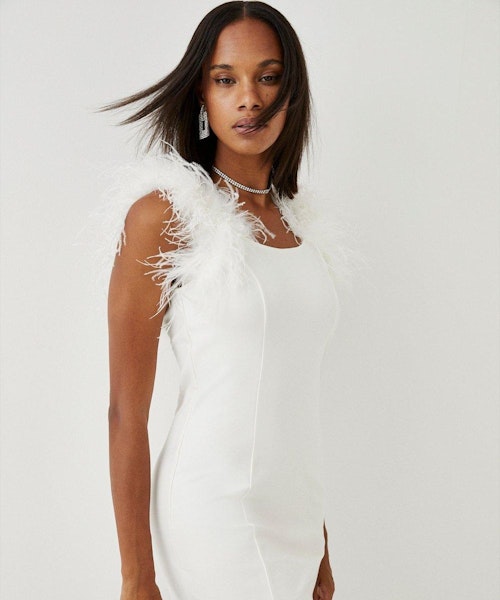 2 of 6
CREDIT: Karen Millen
Defined by tactilefeatherdetailing to the shoulder straps, this limited edition Karen Millen dress would be the perfect chic bridal dress if you're looking for something on the shorter side. Falling just above the knee, this dress plays with proportion so well.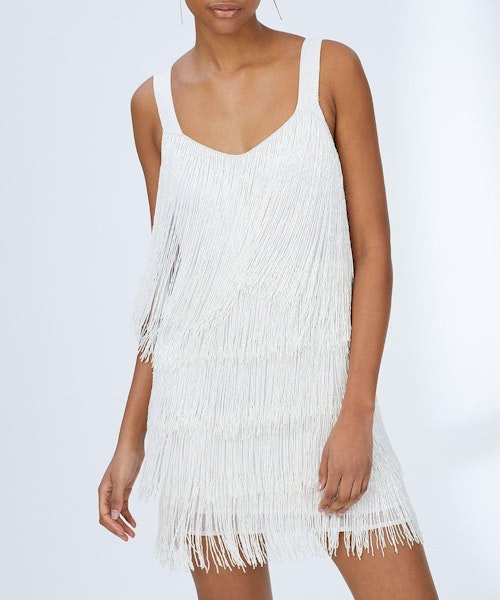 3 of 6
CREDIT: Coast
Another trend we've observed in bridalwear is the fringe dress, and it's no wonder why. This playful take on bridal means plenty of movement so you can shimmy the night away. This style of dress is a fabulous transition from the ceremony to the after-party.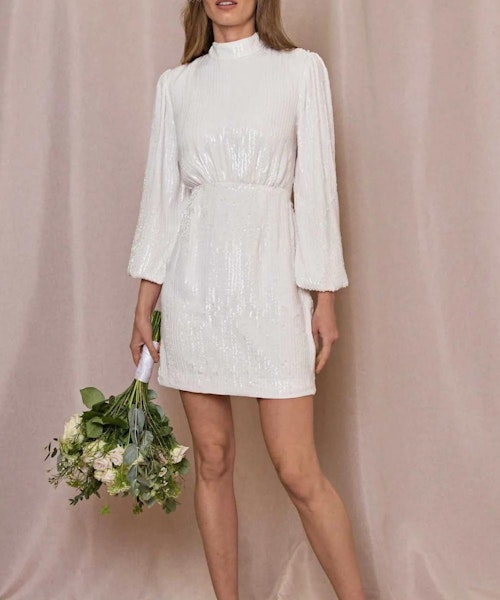 4 of 6
CREDIT: RIXO
Looking for something with a bit of sparkle? The Lara dress is embellished with ivory sequins so you can dazzle your guests on the big day. It has a high, elegant neckline along with a fitted waist and blouson sleeves for that timeless look. This style of dress would work on all brides, making it a gorgeous choice of dress to say 'I do' in.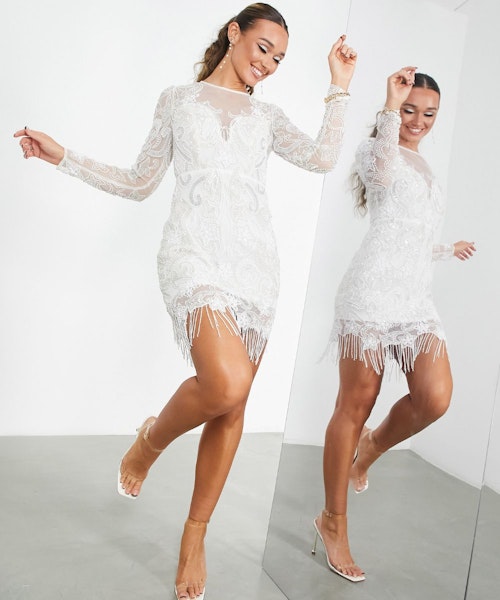 5 of 6
CREDIT: ASOS
With intricate lace details and playful fringe trim, this showstopping mini dress is stunningly on trend right now. It has plenty of eye-catching detail and will truly turn heads. If you're looking to bring the glamour, this beaded dress that's seen plenty of love on ASOS right now will do just that.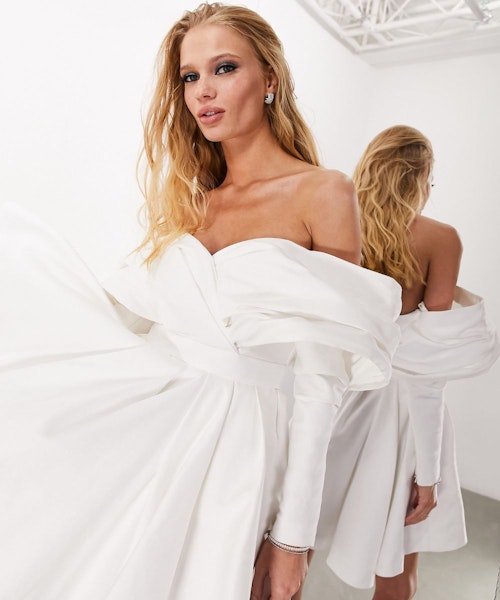 6 of 6
CREDIT: ASOS
Playing with a '50s silhouette, but with a completely modern makeover, the Lila dress is a classic. It features a fit and flare mini skirt, Bardot neckline and long fitted sleeves. Make no mistake, this dress has plenty of volume. It's one that will take your breath away.
The bridal suit
'Plot twist,' teases Charlotte, 'Not every bride wants to wear a dress.' Another trend that's seen increased popularity over recent years is more bridal suits amongst wedding dresses. Whether it's a jumpsuit or separate pieces, we can't see this trend going away. Not only are suits comfortable, but they're also an absolute power move.
'From a tailored finish and a wide-leg relaxed feel to skirts - there are plenty of variations to choose from so brides can tweak to their own personal style,' Charlotte says, 'A jumpsuit can be more sustainable if chosen carefully and it can be worn again. A power suit can be as stunning as a wedding dress.'
SHOP: The best bridal suits for 2023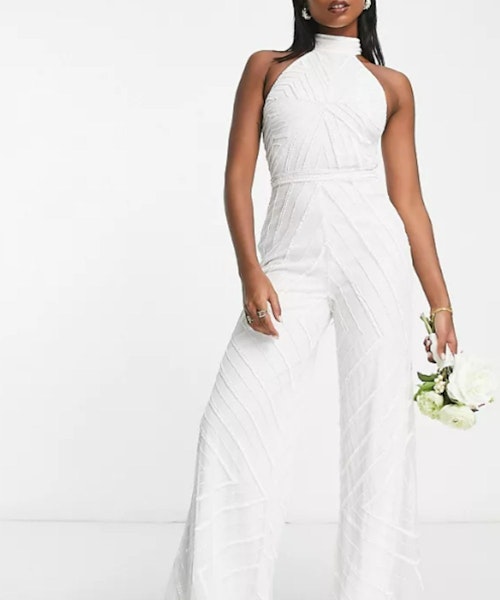 1 of 5
CREDIT: ASOS
With embellished details and a halter neckline, this bridal jumpsuit is seriously sophisticated. One that features a wide leg fit for that flattering shape, it also has a keyhole back for even more interest. Already proving popular at ASOS, the sequin design is subtle yet eye-catching.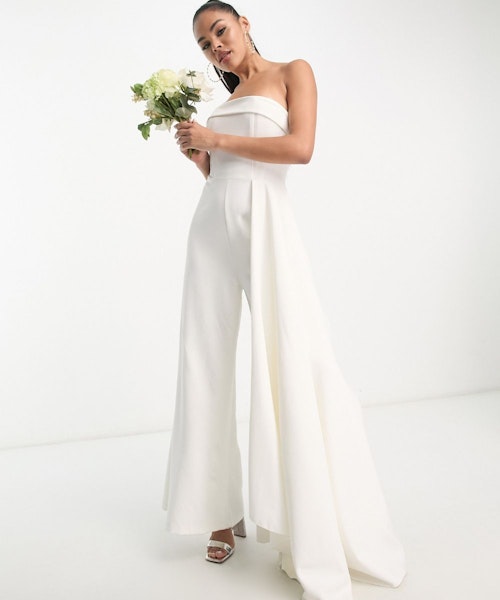 2 of 5
CREDIT: ASOS
A fairly minimalist style bridal jumpsuit featuring a fabulous drape detail that's sure to steal the show. It features a beautifully flattering and tailored fit, while the trousers flare out to create a stunning silhouette. Not to mention, you'll be so comfortable in this.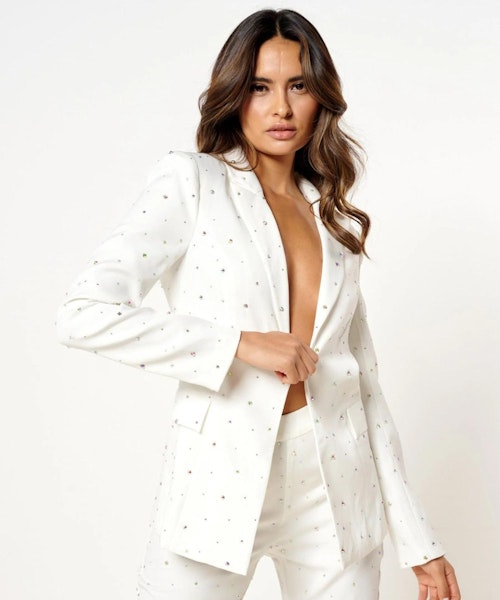 3 of 5
CREDIT: RARE London
If you're wanting a suit that will truly mean all eyes are on you, the White Diamante Embellished Blazer along with White Diamante Embellished Flared Trousers (75) from Rare London will be a wedding outfit nobody will forget. Featuring a tailored fit along with feminine details of sparkling diamantes for an added touch of glamour.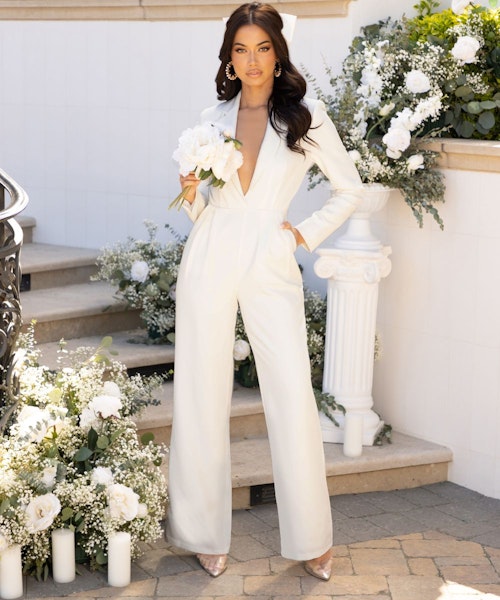 4 of 5
CREDIT: Club L London
Reserved for special occasions, this modern jumpsuit adds freshness to the bridal suit we thought we knew so well. Featuring statement lapels, a plunging neckline and pintuck details for a flattering fit, this suit is a bold choice for your wedding look.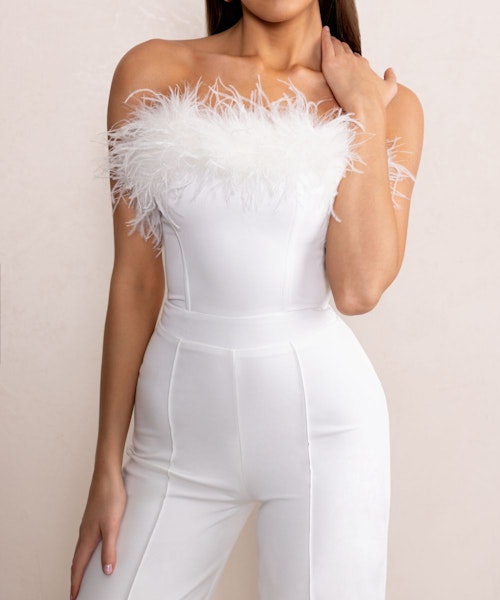 5 of 5
CREDIT: Club L London
This all-in-one is pure perfection, with its statement feather trim, silhouette-enhancing tailoring and elongating wide legs with pintucks. Cut from a premium stretch crepe, this jumpsuit will hug your curves while ensuring comfort and freedom of movement.
Pearls and bows
This is one we're particularly excited about because pearls and bows have a special place in every girl's heart. From accessories to the wedding dress itself, we have seen pearl and bow embellishments galore. Another up-and-coming trend for bridalwear has also been feathers, especially feather cuffs.
However, Charlotte reveals 'Pinterest reports that searches for "pearl wedding dress" have doubled on their website. Pearls in bridal is a trend that's not going anywhere. We've seen more and more designs featuring heavily embellished pearl beading and statement pearl straps.
Bows always give a romantic, gentle and playful touch, they're timeless and have been a firm favourite in many of my designs over the years. But this season, bows are on the rise (!). They're getting bigger and bigger and featured as the statement piece. Whether that's silk bows on the shoulders or large tulle hair pieces.'
Like Charlotte, we're obsessed with bows too.
SHOP: The best-embellished wedding dresses for 2023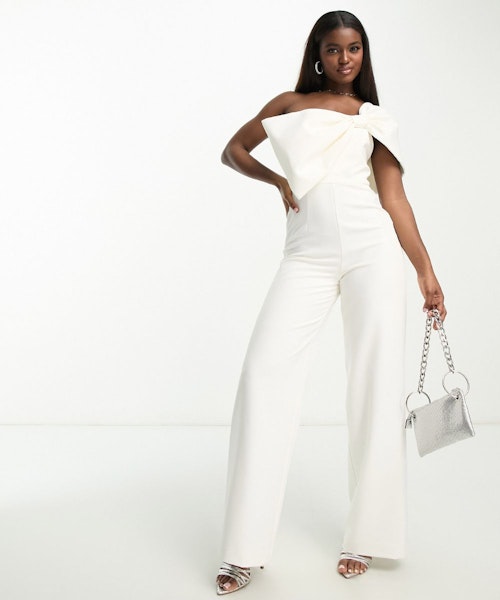 1 of 5
CREDIT: ASOS
Talk about the wow factor. This one-piece wonder incorporates a bold bow detail that wraps around into a one-shoulder design. Style with a curly or braided ponytail to truly show off the unique features of this jumpsuit, ideal for an extravagant bridal suit.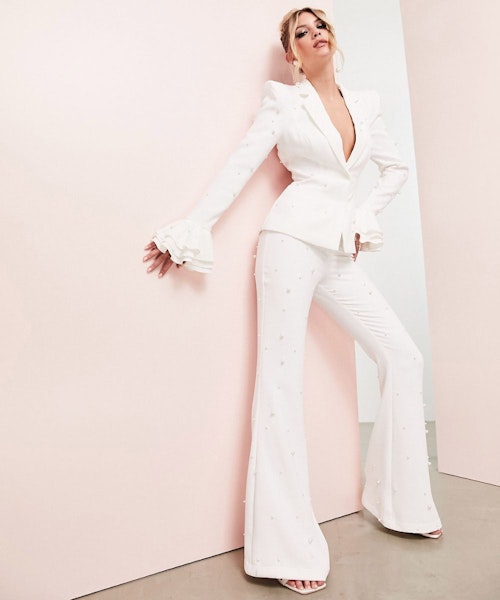 2 of 5
CREDIT: ASOS
Featuring ruffled cuffs, a fitted design and a statement back, this pearl embellished suit from ASOS could actually be 'the one'. Wear as a stand-out jacket with separates or together for the fully completed look. We are loving the amount of detail in this suit.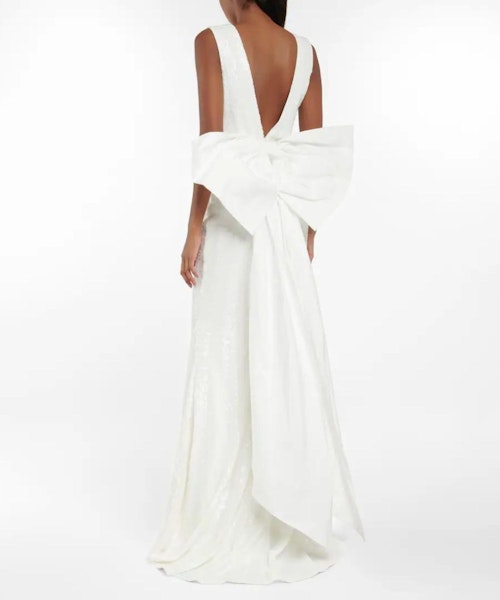 3 of 5
CREDIT: Mytheresa
A plunging back detail leads the eye to an elegant voluminous bow. This super chic Rebecca Vallance wedding dress features sequin applique so that you'll sparkle all day long. There's no denying that this dress is an absolute showstopper.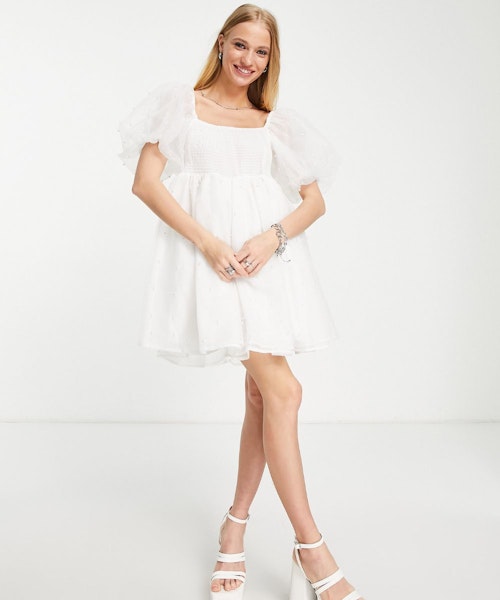 4 of 5
CREDIT: ASOS
From Sister Jane, this dreamy puff sleeve dress features pearl embellishment that we've seen absolutely everywhere this season. A babydoll silhouette and empire waist make this whimsical dress up right our street. Sold out on the Sister Jane website, it's now on ASOS and available to buy.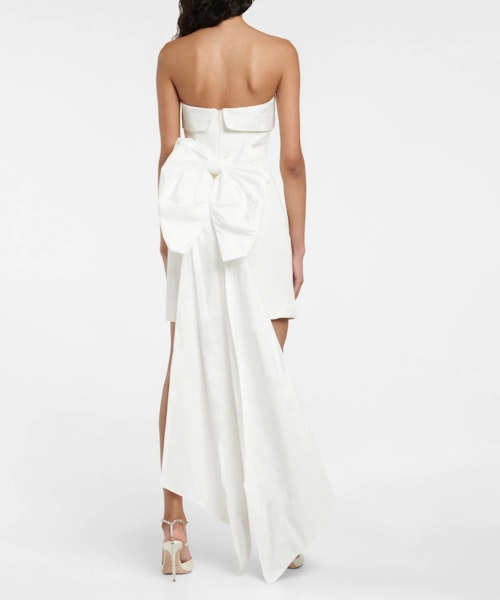 5 of 5
CREDIT: Mytheresa
Two trends in one, a mini dress adorned with a fabulous oversized bow is everything you could ever need. This dress ticks all of the boxes. A super playful silhouette that also looks ridiculously chic, it also features a polished neckline for a classy finish.
Less is more
Another style on the rise is minimalism, but is one that is guaranteed to be timeless through the decades. If you've decided on a 'less is more' approach by choosing a simple wedding dress, you'll be able to breathe a sigh of relief when looking back through the photo album for years to come. (Thank us later).
Charlotte says, 'Brides are opting for slinky slip dresses, so lightweight and easy for dancing the night away in. Especially with 90s minimalism on the rise.'
If Meghan Markle's dress was your idea of heaven, you might appreciate a simple style dress with no fuss.
SHOP: The best simple wedding dresses for 2023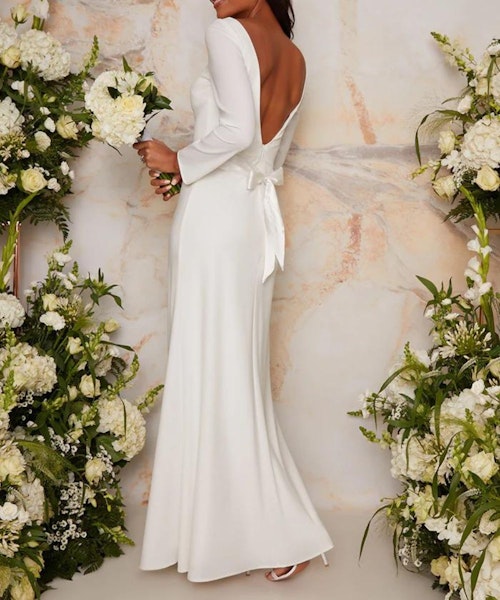 1 of 5
CREDIT: Chi Chi London
An elegant dress that is perfect for the minimalist bride. With a high neckline and satin sash that creates a pretty bow at the back for added interest, it also has a plunging back and fitted waist that flares out gradually at the hem. Chi Chi London's bridal collection has plenty of choice for every bride.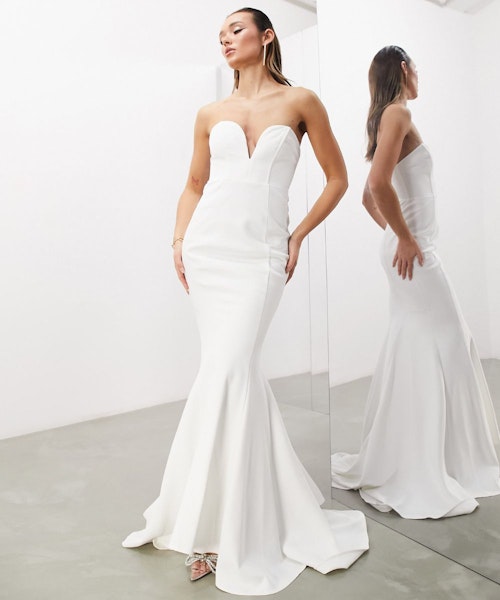 2 of 5
CREDIT: ASOS
A classic shape and style, so one you know will look timeless on your wedding photos. The Etta dress features a sculpted bodice and flaunts a fishtail skirt that flares out toward the hemline, making for a stunning dress to twirl around on the dancefloor.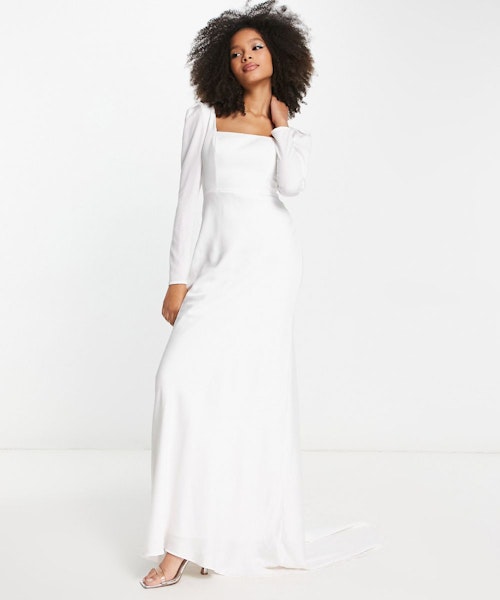 3 of 5
CREDIT: ASOS
As minimal as you can get, the Gigi dress is a long sleeve, square-neck maxi dress that stuns with its simplicity. Perfectly suited to any bride, but especially a bride who doesn't want much of a fuss. Classy, elegant and flattering - it's one that's seen a lot of interest on ASOS.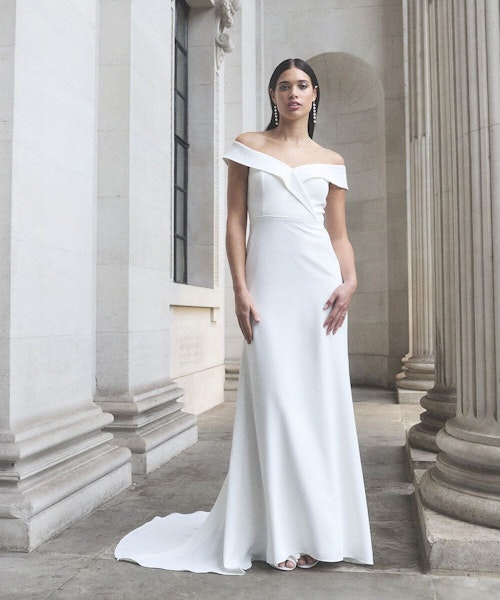 4 of 5
CREDIT: Monsoon
It goes without saying, this Bardot-style dress is an elegant option if you're looking for a truly timeless dress. Although it has some detail around the neckline and lace insert in the back, this minimalist dress doesn't feature any embellishments, so it's a lot more understated. Perfect if that's the look you're going for.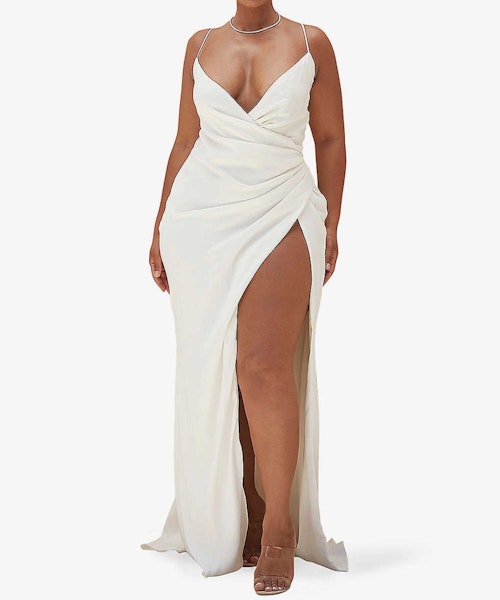 5 of 5
CREDIT: Selfridges
Made from luxurious satin with a fitted silhouette and delicate shoulder straps, this dress from House of CB has figure-flattering draping suited to a goddess. With a split hem for a bit of leg action, this simple dress would be ideal for a warmer ceremony abroad or a summer wedding.
A second look
Definitely a more modern phenomenon, a lot of brides are opting for a 'second wedding dress' after their reception and into the night. We get it, we're spoiled for choice too. An alternative dress may mean you'll have something more comfortable to change into after the ceremony.
Charlotte says, 'We've seen some really beautiful alternative evening looks. In the evening brides are looking to be more modern and selecting party dresses in pastel shades. Of course, not every bride has the budget for more than one dress, so I would possibly look at separates that can be interchanged or dresses that come with detachable elements to take you from day to night.'
SHOP: The best second-look wedding dresses for 2023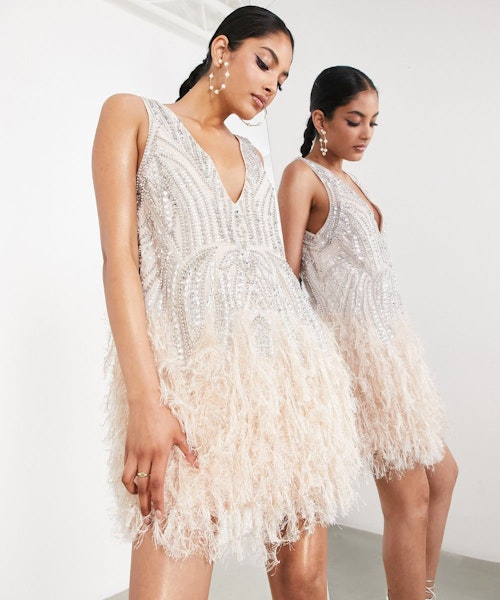 1 of 5
CREDIT: ASOS
A truly showstopping dress, this one features beading and crystal embellishments so there's no doubt that you're the star of the show. Having seen a lot of love on ASOS at the moment, this dress is in high demand, so be sure to get yours before it's gone.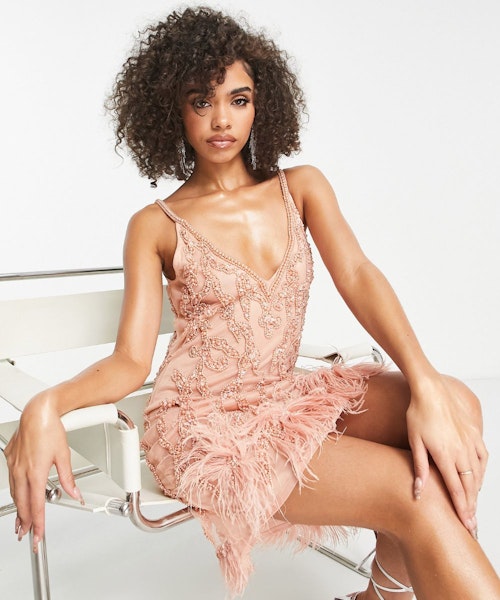 2 of 5
CREDIT: ASOS
Feather trims have seen a lot of love in recent years, yet this luxurious dress is so timeless. In a beautiful blush colour, it's embellished with dazzling sequins and comes just above the knee to allow you plenty of movement instead of a restrictive floor length gown.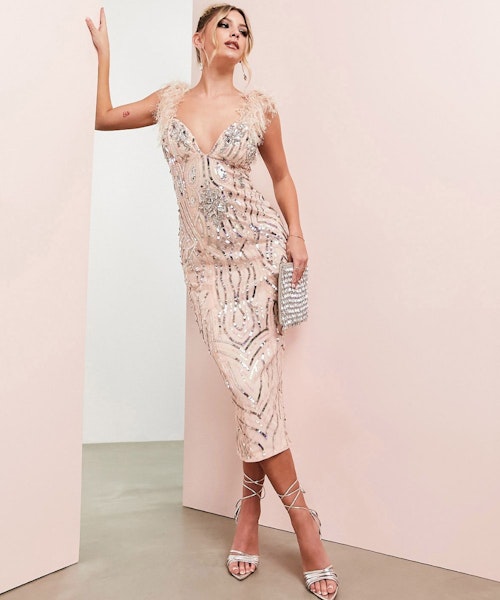 3 of 5
CREDIT: ASOS
Another dress that just radiates glamour. This one is slightly longer in length if that's something you prefer. For any classy affair, this pale pink gemstone embellished dress featuring feather shoulder straps would be perfect for the after party.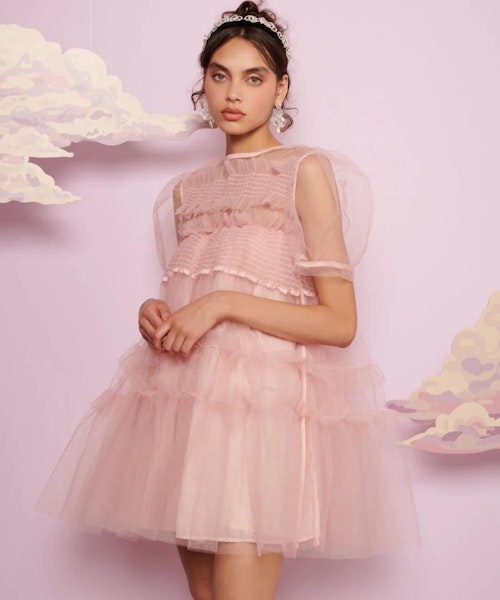 4 of 5
CREDIT: Sister Jane
Any one of Sister Jane's dresses would double up as a dreamy second dress after the ceremony. Think flared hemlines, floaty tulle and puff princess sleeves. You'll look just like a vision in any of their incredible dresses.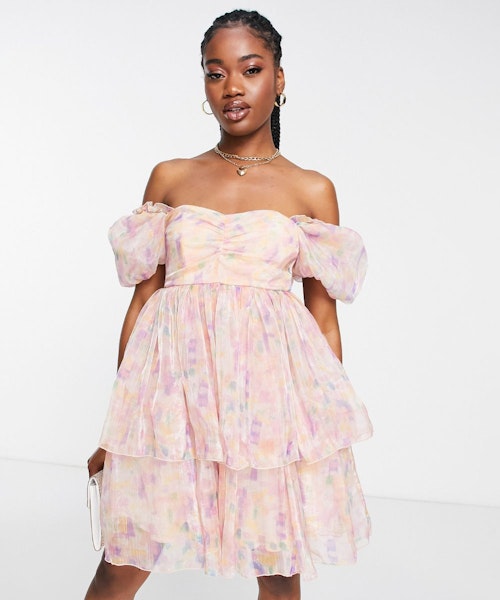 5 of 5
CREDIT: ASOS
As mentioned by our expert, Charlotte, pastel dresses have been a popular choice for a second look as of late. So, running with the theme, this beautiful dress from ASOS would be so on-trend. You'll truly feel and look like a princess in this puff sleeve number.
FAQs: Wedding dress trends
What accessories are in this year?
Continuing with the theme of pearls and bows, which have been massive this season, these also serve as fabulous accessories. Particularly if you're going for a more minimalist dress, adding accessories such as hair bows or shoes adorned with bows can add a little bit of interest elsewhere. Additionally, pearl accessories in the form of earrings, necklaces, headbands or hair clips are also so on trend right now.
What wedding dress style fits my shape?
Remember when it comes to wedding dress shopping, the main thing is having fun. Bring a supportive entourage, try on a few different styles and see what works best for you. While there are no rules (after all, it's YOUR day and you should wear whatever you feel happy in), whether you're a petite, tall or plus-size bride, shopping for your body type can sometimes mean the dress fits more proportionate to your body.
How are wedding dress trends influenced?
There's no denying that wedding dress trends of today take massive inspiration from bridal trends of the past. Although we often think that our ideas are new, they're often inspired by fashion history.
The mini dress: Shorter lengths were first observed around the '50s, when flared skirts and tea-length wedding dresses became popular. The '60s brought the mini skirt, also reflected in wedding dress styles.
The bridal suit: Although modernised, bridal separates were around as early as '60s with matching blazer jackets and skirts. It was the '80s, the decade of the power suit which saw suits become more popular with women.
Pearls and bows: Pearls and bows have been around forever when it comes to bridal looks, especially as pearls represent purity, fertility and pure love. Bows have been used in wedding attire for hundreds of years but saw a resurgence in the '50s.
Less is more: Minimalism became in trend during the '90s with satin slip dresses and sleek silhouettes. Otherwise, plain understated dresses became more fashionable. Although '80s style dresses from the decade before still saw some popularity (no more shoulder pads, PLEASE!).