He started his new presenting gig last week on BBC Radio 2's mid-morning show, replacing legendary host Ken Bruce – receiving largely positive reviews for his energetic presenting style. But while Vernon Kay's wife Tess Daly is excited for him, an insider reveals it's also left her feeling unnerved.
A source says, "Tess is incredibly proud of Vernon but understandably there's also a part of her that's feeling anxious about how the new job will affect their marriage.
"Vernon's under a huge amount of pressure to make the show a success so he's been working extremely hard, which has already created some tension.
"Tess has got used to Vernon being at home a lot more, but it's all about to change as he moves on to new projects, and that's playing on her mind as she worries about the long-term affect his new gig will have on them both."
The Strictly presenter recently opened up about her battle with anxiety on Sophie Ellis-Bextor's podcast, Spinning Plates, and revealed that she failed to prioritise herself.
She said, "As women I think we tend to often, not neglect ourselves, but we are last on the list. For everything we have to do and everyone we've got to look after in our lives, and all the responsibility we have and all the balls we're keeping in the air – it feels like we are last on the list."
Tess, 54, went on to admit that she was "in denial" over her and Vernon's 18-year-old daughter, Phoebe, leaving home to start university.
She also revealed how she uses an app to "obsessively" track her children's whereabouts – saying she's a "nervous wreck" when Phoebe is out driving.
The source says, "Tess is a bit of a worrier so, understandably, any big changes within the family spark an element of panic or cause her to fear the worst."
Tess and Vernon, 49 – who also share 13-year-old daughter Amber – have famously weathered their fair share of storms throughout their 19-year marriage.
In 2010, Vernon admitted to exchanging sexually explicit messages with former glamour model Rhian Sugden – forcing him to issue a public apology for his "foolish and stupid decisions".
Three years later, the couple renewed their marriage vows on their tenth wedding anniversary at an intimate celebration in France alongside their daughters.
But after appearing to work through their issues, the scandal was dragged up yet again in 2016 amid fresh allegations that the Family Fortunes host was back in touch with Rhian.
This time, he took to Facebook to explain his actions, telling fans, "I was merely trying to find answers to questions that I've had since 2010. Tess is aware of everything that has been discussed with Rhian."
The pair are now said to be more committed to each other than ever, with pals revealing how they're planning to celebrate their upcoming 20th anniversary in September with a lavish party.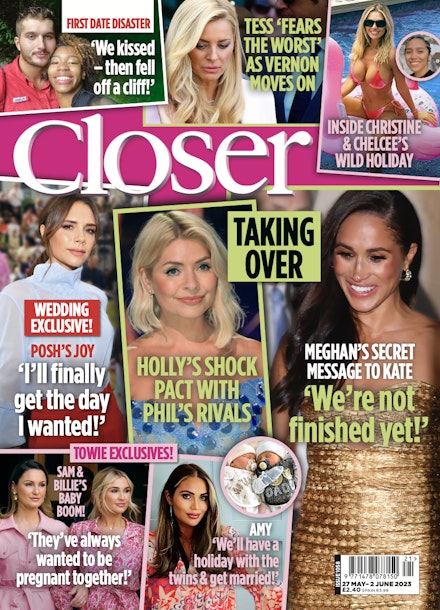 The source adds, "They've been through so much over theyears, but the tough times have further strengthened their love.
"While Vernon understands Tess' fears over the changes his job will bring, he's assured her that it's an opportunity for them to carve out special time for each other – planning date nights and romantic getaways.
"They're going to go all-out to celebrate their anniversary by inviting all their loved ones to share their special milestone with a huge bash, as well as going on a holiday just the two of them.
"Tess is so proud of Vernon and knows what a big deal this new job is for him, so she's determined to push through her worries and support him in any way, just like he's done for her over the years."
WATCH: Strictly Come Dancing, Love Island and soap stars reveal their worst ever date